DESIGN
ROMANTIC Color tile is designed according to the European style to meet the rrquirement of high class customer in the market of real estate. Detail characteristics of the product is concentrated specifically to be against the water filled into the back of the roof because of tropical storm with the wind speed over 12. Qualified design has made the effective area of the roof tile is rather large that can be 9 sheets/m2.
1. 3D Design in computer version
2. Mould is made by CNC machine
3. Final product to be perfect even the most specific detail.
PRODUCT CHARACTERISTICS
Using highly anti-alkali polyme fiber which makes better reinforcement for the cement matrix has enhanced the impact strength of the tile by which it can be adapted with 0.3 kg ball from the height of 1.0m without any crack. This result has helped to reduce the weight of roof tile to be 3kg while meeting the strength during the transportation and installation. By that, the final weight of the total area of the roof can be reduced 30% in comparision with the normal roof tile.
Romantic color tile is painted with 100% paint of Mizutani – the pioneer in manufacturing paint for color roof tile in Japan since 1953. TVY Line is the nano Silicon paint which Mizutani has manufactured specifically for Tan Viet Y to protect the color of the tile in more than 20 years in such tropical and high humidity weather, the tile is then can be adapted with higher moiture and water resistant as well as anti-mouldy characteristics comparing will other type of paint. TVY Line is also friendly with environment that is no evaporation chemical, no smell. The rain water which is dropped from the roof tiles painted with TVY Line has been qualified with the Japanese standards of clean water.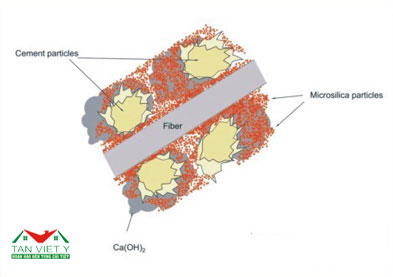 High anti-alkali polyme fiber added with micro silica of Elkem
The bending strenth of ROMANTIC color tile is met with over 1200 N
Nano Silicon paint which Mizutani has manufactured specifically for Tan Viet Y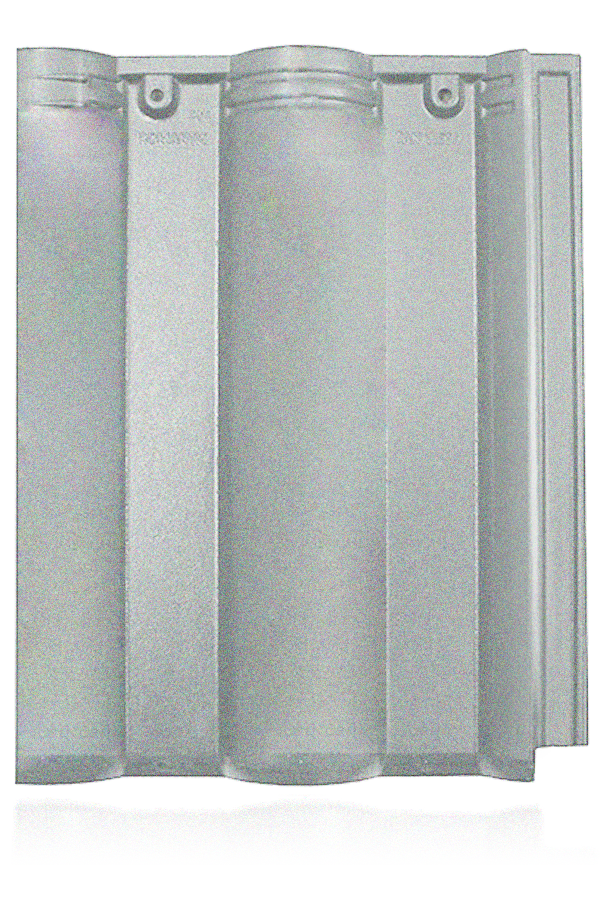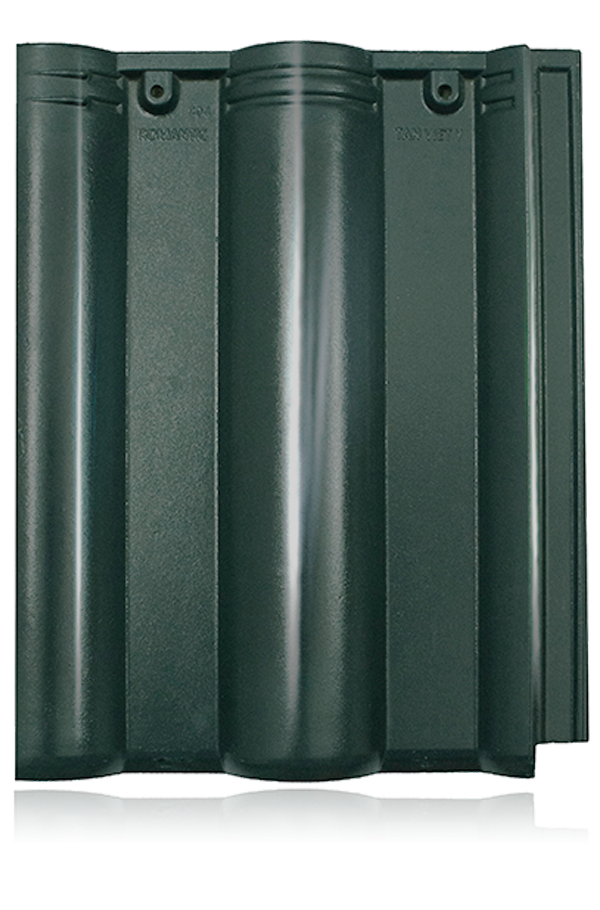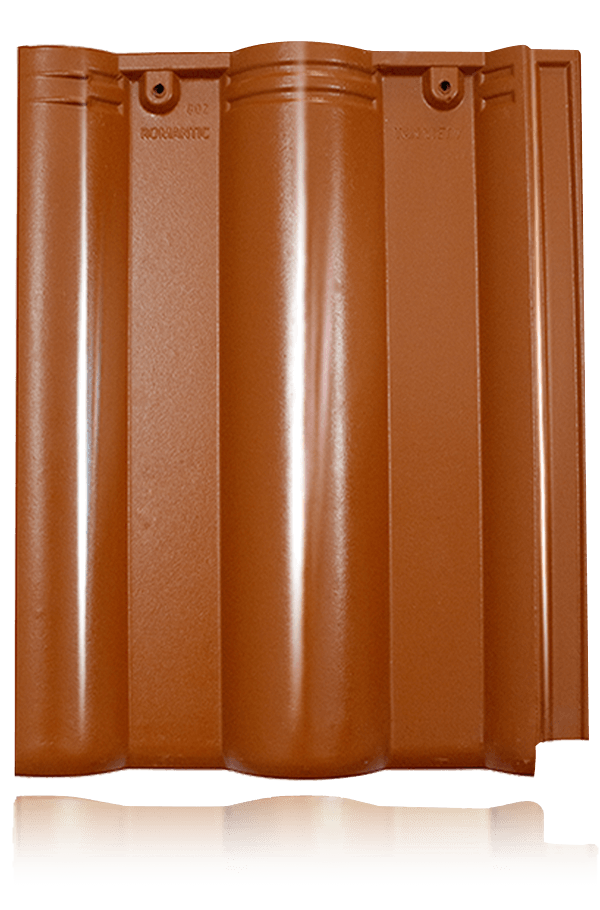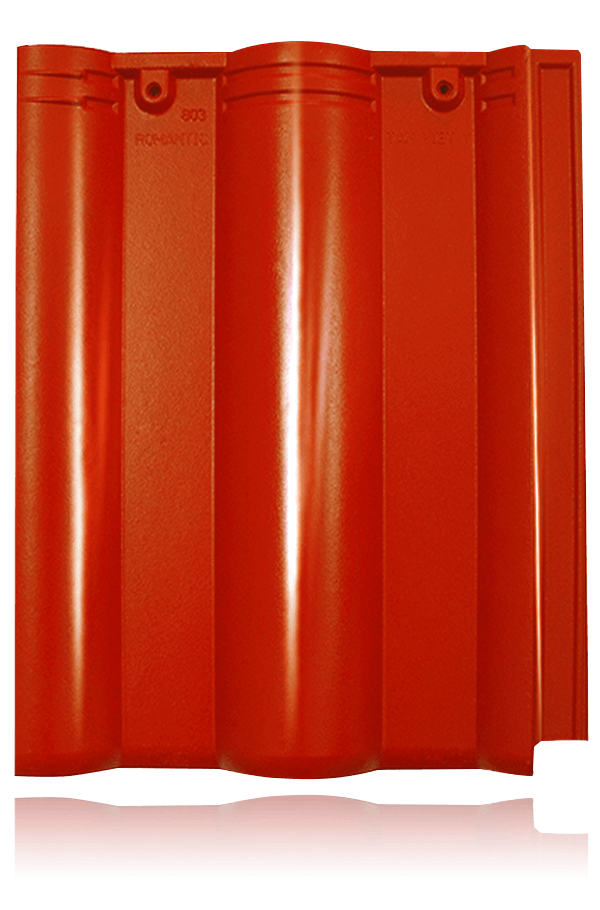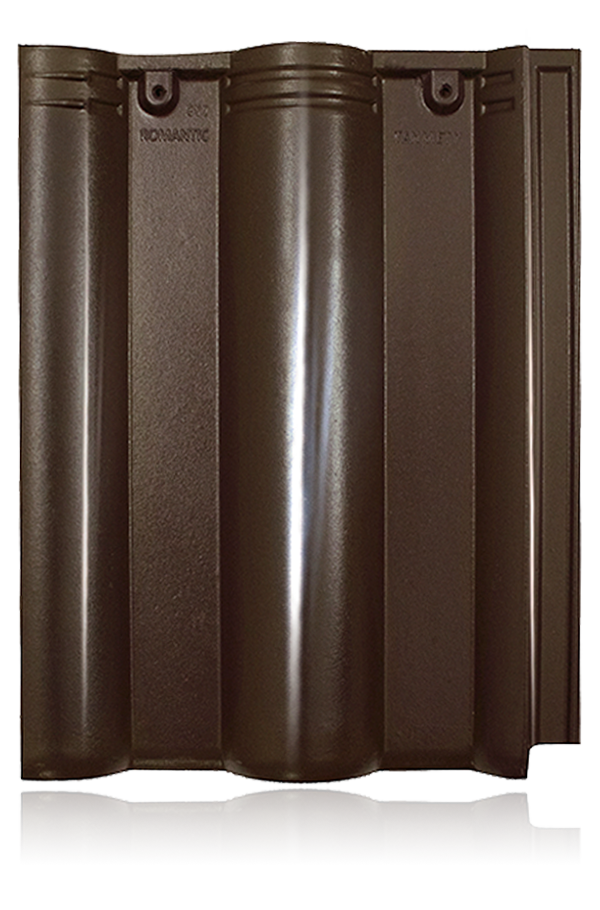 SPECIFICATION OF MAIN TILE
| | |
| --- | --- |
| Dimension of product (mm) | 424 x 335 (± 2) |
| Effective area (mm) | 363 x 303 (± 2) |
| Number of tile/m2 | 9 |
| Average weight of/tile (kg) | 3 (± 0,2) |
| Average weight of/m2 (kg) | 27 (± 2) |
| Water absorption (%) | < 9,5 (JIS A 5402) |
| Bending strength (N) | >1200 |
GENUINE IDENTITY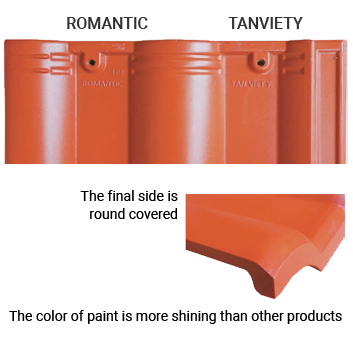 Tile accessories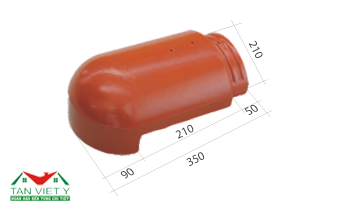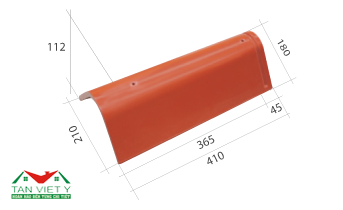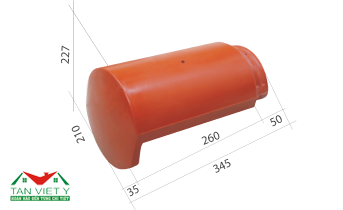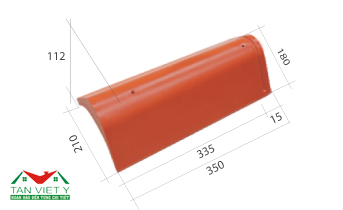 INSTALLATION LOCATION



Gallery
[sc_gallery_product_sonda]
All contact details for ordering: